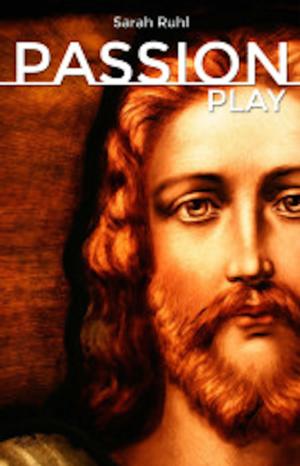 Chance Theater presents the second show of its 16th Anniversary Season – the humorous and inventive glimpse behind-the-scenes of the traditional Passion play produced in three distinctively different locations and times. Written by two-time Pulitzer Prize Finalist Sarah Ruhl, with direction by Trevor Biship (director of Chance's Ovation Award-winning Jerry Springer: The Opera). Passion Play will preview from April 25 through May 2, open May 3 and continue through May 25 at Chance Theater @ Bette Aitken Theater Arts Center.
Passion Play is a light-spirited story about three sets of amateur performers in three different eras grappling with the personal effects of staging the death and resurrection of Jesus Christ. At its core, it's a playful and profound perspective on the dysfunctional family of the theater and how that relates to the larger world outside of it. From Queen Elizabeth's England to Hitler's Germany to Reagan's America, two-time Pulitzer Prize nominee Sarah Ruhl's play is bold, magical, poetic, sexy, smart, profound and epic. It's truly not to be missed.
"I am not particularly religious, but I found myself fascinated by the staging of Christ that Ruhl describes in three different periods," says director Trevor Biship. "Passion plays are such a part of our theatrical history, and that's intellectually engaging to me. I love plays that exploit history and politics, and we know that religion, religious fervor, and the quest for meaning is often inextricably linked to politics. Ruhl's play is deeply reverent to those who search for meaning of all kinds, but at the same time, deeply questioning. And, in many ways, the making of theatre is a search for meaning. I connected to that."
"This show has music, puppetry, violence and humor," continues Biship. "It is a farce at some moments, a backstage drama at others. It reminds us of classic events of our past, but somehow responds to contemporary issues – such as mental illness, treatment of veterans, and sexual identity. I most look forward to seeing how our audiences respond to Sarah's beautiful play. Because they will. And you will see it in a way that only the Chance can do."
Passion Play premiered in 2005 at Washington's Arena Stage. The play went on to be produced by the Goodman Theatre in 2007 and Yale Rep in 2008. Then in 2010, it was reimagined in a New York premiere by Epic Theatre Ensemble at the Irondale Center, a converted Sunday school in the Lafayette Avenue Presbyterian Church. David Sheward of Back Stage hailed it as "the most exciting, stimulating, and thrilling piece of theater to hit New York since Angels in America… [The play] examines the ways faith and art interact with politics and personalities, as re-enactments of Christ's Passion change the destinies of the performers."
Sarah Ruhl began writing Passion Play at age 21, while studying under Paula Vogel at Brown University, who convinced Ruhl to pursue playwriting rather than poetry. She did not finish the play until eight years later, after Wendy C. Goldberg and Arena's Molly Smith commissioned the third act.
"I started writing this play after re-reading a childhood book which includes an account of Oberammergau in the early 1900s," Ruhl explains in her Playwright's Note. "In this old fashioned narrative, the man who played Christ was actually so holy as to have become His living embodiment. The woman who played Mary was, in real life, just as pure as the Virgin. I started thinking, how would it shape or misshape a life to play a biblical role year after year? How are we scripted? Where is the line between authentic identity and performance? And is there, in fact, such a line?"
Passion Play features Scenic Design by Fred Kinney, Lighting Design by Brandon Baruch, Sound Design by Jeff Polunas, Costume Design by Sara Ryung Clement, Props Puppet Design by resident artist Christopher Scott Murillo, and Dramaturgy by Carla Neuss.