Roland R. Bailey
Forest Park, Georgia – Roland R. Bailey, 67, a resident of Morrow, Georgia, and former resident of Turner, Maine, passed away, Tuesday, March 4th at Southern Regional Medical Center in Riverdale, GA. He was born in 1946 in Lewiston, Maine, the son of Alexander and Margaret (Stevens) Bailey. He was a 1964 graduate of Leavitt Institute in Turner and continued his education at University of Maine Orono, receiving his Associate Degree in Animal Technology.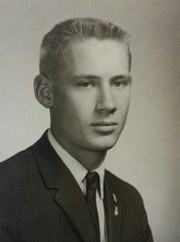 Roland served as a volunteer in the Peace Corp in Nigeria. Roland was also a U.S. Army retiree, having served 27 years as a Quartermaster Corps Warrant Officer. On December 18, 1970 in Oberammergau, Germany, he married his wife of 43 years, Rowena Trevorrow of Queensland, Australia.
He is survived by his wife, Rowena Bailey of Morrow, GA; his son, Adrian Bailey and his wife Theressa of Disputanta, VA; his daughter, Raewyn Bailey of Dectur, GA; four grandchildren: Tia, Damon and Jalen Bailey, and Emily Brooke Havens; his siblings, Evelyn Damon and her husband, Erwin; Chester Bailey and his wife Jeannie; Everett Bailey and a his wife Joan; Robert Bailey and his wife Sheila; and Norine Bailey Paradie and her husband Roger, all of Turner. He was predeceased by his sister, Louise Guilford. Messages of condolence may be sent to: www.finleyfuneralhome.com
Bailey – Died Tuesday, March 4, 2014 in Riverdale, Georgia. Roland R. Bailey, 67, a resident of Morrow, Georgia, formerly from Turner, Maine. Funeral services with full military honors will be held 1:00 PM on Sunday, March 9th at FINLEY FUNERAL HOME, 15 Church Street, Livermore Falls, Maine. Visiting hours will be from 11 AM – 1 PM prior to the funeral services at the funeral home. Interment in the spring at Upper Street Cemetery, Turner, Maine. In lieu of flowers contributions may be made to: Greater Androscoggin Humane Society, 55 Strawberry Avenue, Lewiston, Maine 04240.
Mr. David Eason Haynie
Mr. David Eason Haynie, age 57 of McDonough, Georgia passed away March 5, 2014. He was born in Atlanta, Georgia to the late Wiley Richard and Margaret Lydia Brown Haynie. David worked for Delta Airlines for 25 years and attended Eagles Landing Baptist Church. He enjoyed playing tennis and golfing. Survivors include his son, Derek (Katherine) Haynie of Lawrenceville; grandchildren, Madilyn and Grant Haynie; brother, Jack (Carol) Haynie of Houston, TX; nieces, Kirstie and Kelsey Haynie. Funeral services will be conducted Saturday, March 8, 2014 at 4:00 pm from the Chapel of Haisten Funeral Home. Friends may visit the family Saturday from 1:00 pm until the hour of service. Contributions are asked to be made to the Salvation Army in memory of David. Haisten Funeral Home of McDonough, 770-914-8833, www.haistenfunerals.com.